Dear friends,

It's Valentine's Day! The Earth needs our love!
Check out photos and a 2 min video of Valentine's Day actions in 2017 that helped obtain full funding for the early years of the TransformTO program. Now we need to see climate justice funding grow!

The 2021 BUDGET VOTE IS THIS WEEK on Feb 18th. So far, despite many letters and deputations, including many sent by participants in our training for climate advocacy, the Budget
Committee and the Executive Committee have failed to restore funds to the Environment and Energy Division – funds that are needed to catch up on urgent work delayed by COVID.

Last year's 2020 budget included funding for numerous new staff positions to fulfil commitments made in the Climate Emergency Declaration in July of 2019. These were not filled due to the COVID emergency meaning the Net Zero report has been pushed back and may not come out in time for consideration in the 2022 budget.

Can you send an individual letter to your councillor and the Mayor letting them know that climate action is urgent? A model letter can be found here, and all the contact info you need
is on there too. (Note: we have been sending ward by ward requests for these individual letters, thank you to all those who are responding! In some wards we have only a few subscribers – and
every letter counts!)

Call the Mayor and make sure he knows that you support climate justice in the budget! Mayor Tory: 416-397-2489 mayor_tory@toronto.ca
SIGN THE TEA PETITION FOR CLIMATE IN THE CITY BUDGET
Please sign this petition-letter from Toronto Environmental Alliance (TEA).
Also send your own personal letter as it will make more of an impression and phone calls even more so. Instructions are given above and also on our website where you can also find slides and additional information on the city's budget.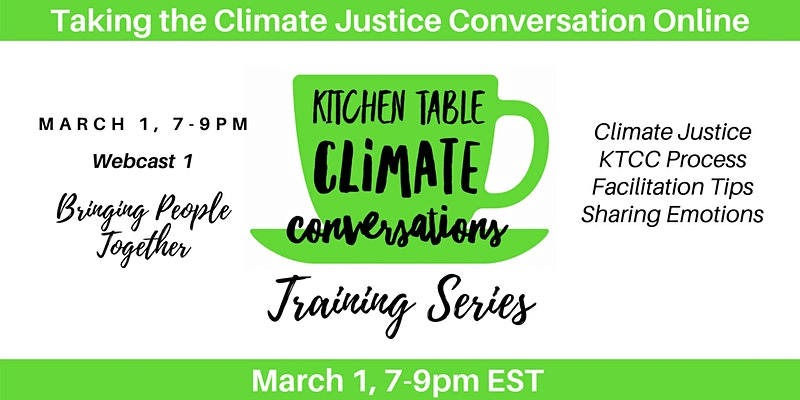 Kitchen Table Climate Conversations (KTCC) Training Series

Help to grow the climate movement! Starting March 1st, ClimateFast is hosting a series of 4 training webcasts on our Kitchen Table Climate Conversation model. Would you consider hosting or facilitating a conversation with you friends, family, neighbours, work colleagues, or faith or other group you are part of? We invite you to learn more! Together we can meet the challenge of talking about climate justice and grow our movement. We recommend the series; register for each session separately.

FIRST SESSION: March 1st – Part 1 – Bringing People Together: Eventbrite and Facebook
The first webcast in the series encompasses how to talk about the climate and facilitate climate conversations, including how to engage emotions. We'll explore the importance of these conversations right now, the urgent need for climate justice and a just and green recovery. 
Conversational Context: A discussion about Climate Justice, Health and the Climate and of a Just, Green Recovery.
Conversation Facilitation: How to facilitate conversations, including making space for emotions.
Register for March 15 - A Model Conversation

Register for March 29 - Nuts and Bolts (and inspirational stories!)

Register for April 12 – Collective Courage

READ ABOUT THE SERIES – AND FIND ALL OUR MATERIALS at our new Climate
Conversations website: https://climateconversations.ca/news/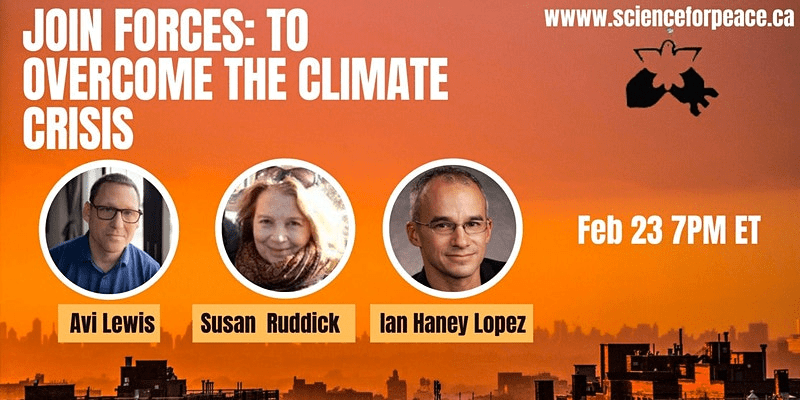 Join forces to Overcome the Cimate Crisis! ClimateFast is partnering with Science for
Peace to bring you this webinar Feb 23 at 7 – 8:30 pm Register here

This webinar explores how what needs to be done will get done. We only have a decade or so to make major economic, political, and cultural changes. Can we succeed in building a powerful movement to impel change? Activists, scholars, musicians and a slam poet will take part in this exhilarating event. Join us!
February 27 - 2 PM - FASTING FOR JUSTICE

Learn about the strategy of fasting for nonviolent social change from those with experience to share. Learn about ClimateFast's history with Lyn Adamson (we started with a 12 day fast on Parliament Hill in 2012). Other speakers include Kathy Kelly (Voices of Creative Nonviolence) Matthew Behrens (Homes Not Bombs) and Souheil Benslimane (Prisoner & Migrant Justice organizer)

More info and Register here! https://actionnetwork.org/events/fasting-for-justice
FEDERAL PRE- BUDGET CONSULTATION – call for a green & just recovery!
There are opportunities to highlight the need for a Green and Just Recovery in this 2021 pre-budget questionnaire open till February 19. ClimateFast's submission can be seen on our website.
CLIMATE ACTION NETWORK – PATHWAYS TO ZERO WEBINAR SERIES
Thursdays at 1 pm through March 25. Recordings of previous webinars available.
ClimateFast is a member of Climate Action Network. Find out more and register here.
ClimateFast is a grassroots volunteer organization with many teams including: webcast, climate conversations, outreach, anti-racism, retrofits, climate finance, and more. We are looking for ward coordinators – so if you can help in your ward let us know! volunteer@climatefast.ca or fill in the form here. Our organizing is all virtual for now, but it can still be a lot of fun!
Here is our Kitchen Table Climate Conversation Team in action: